The Trime X-ECO Hybrid Lithium is a LED lighting tower that is powered by a combination of a lithium battery and a small fuel-efficient diesel engine. X-ECO Hybrid Lithium can be fully recharged in less than two hours. This means that for 80% of operation, the X- ECO HYBRID LITHIUM is powered exclusively by its batteries and therefore emits zero noise and zero carbon emissions.
The X-ECO Hybrid Lithium is fitted with either 4 or 6 no. 100watt LED lamps that deliver a light coverage of up to 3000 square metres. Trime engineers have calculated that the X- ECO Hybrid Lithium will bring significant cost savings and environmental gains when compared to a standard lighting tower. Noise-sensitive areas will profit from the X-ECO Hybrid Lithium operates silently for up to 14 hrs and 30 minutes.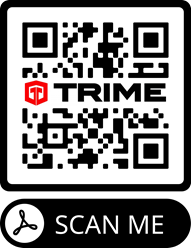 For the full press kit scan the code...
Safety is heightened by the AMOSS security system, which automatically lowers the mast if the lighting set is moved whilst the mast is still erected. Unlike many lighting towers on the market, this device is included as standard on the Trime X-ECO Hybrid Lithium machine.
Trime have on offer some optional features for the X-ECO Hybrid Lithium including; a telemetry system for remote location and operational monitoring, an automatic start-up PIR operation, and handy dimmable lighting.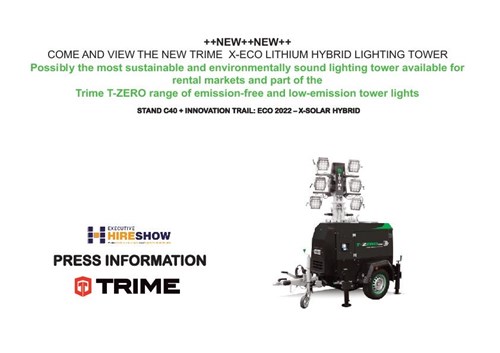 https://www.trimeuk.com/en/products/range/t-zero
Go to Latest News