Radiodetection, a world leader in the design, development, and supply of buried utility locators will be demonstrating a range of products at the Executive Hire Show on stand A75.
Included in the products on show will be the latest range of Cable Avoidance Tools and their Remote monitoring solution, Precision RD7100™ and RD8100™ Cable, Pipe and RF Marker Locators and Schonstedt Locators.
Cable Avoidance Tools
Radiodetection pioneered the Cable Avoidance Tool (C.A.T) to prevent accidental
damage to underground services when excavating.
Several years ago, Radiodetection introduced on-board data logging in response to the growing focus on reducing buried utility strikes. Utility strikes are a serious problem, potentially causing harm to workers as well as damage to the underground infrastructure.
Logging the data from cable avoidance tools allows companies to monitor and improve the on-site performance of their teams.
Radiodetection UK Sales Administrator Janet Blackmore said, " Our customers tell us that they particularly value the ability to see how, when and where their teams are using their C.A.Ts and to address any training needs identified as soon as possible."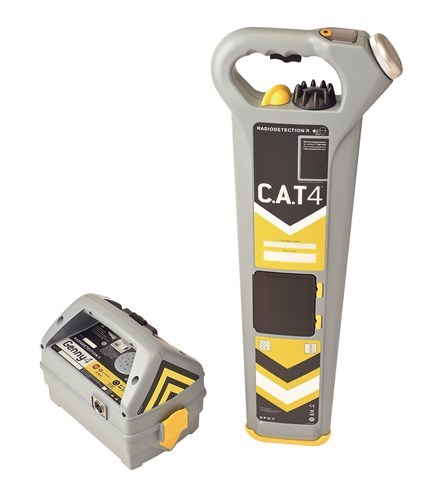 Janet continued, "To meet this need, we offer our on-line logging and analysis product – C.A.T Manager™ Online. For users of our gC.A.T4™ product – our avoidance tool with in-built GPS – C.A.T Manager Online provides a cloudbased, near real-time view of their fleet of C.A.Ts. The data from each gC.A.T4 is automatically, with no user intervention, uploaded to our secure servers, from where it can be visualised and analysed by a remote user via a standard web browser, removing the need to install any special software. The C.A.T Manager Online interface provides access to key metrics and reporting tools, to measure compliance and identify training needs to help reduce utility damage and increase operators' safety."

No matter which locate process are followed, it is vital that C.A.Ts are used with a Genny4™ signal transmitter. The Genny4's patented simultaneous dual-frequency facilitates the location of small diameter cables such as telecoms and street lighting, including spurs.
Precision Locator Range
The Precision Locate range of underground utility locators comprises: the fully-featured, multi-function RD8100 cable and pipe locator; the utility-specific RD7100 locator; and the innovative RD7100 and RD8100 RF Marker Locators that combine the ability to locate buried Markers with finding underground cables and pipes.
All the RF locators offer both an automatic marker depth measurement system, which eliminates the need for a 2 step manual process, and also a combined utility- and marker-locating mode.
Creating and sharing detailed maps with utilities marked using industry-standard colour coding is a simple task thanks to internal or external GPS options and Bluetooth connectivity to the new RD Map™ app for Android devices. Using RD Map, operators can easily create and share maps in real-time. RD Map* is free to download and use from the Google Play Store.
* Requires Android 5.1 or higher, data connectivity and Google Maps
Schonstedt Magnetic Locators
For over half a century, Schonstedt has been an industry leader in designing and manufacturing underground magnetic locators. Schonstedt Magnetic Locators are designed to provide accurate location of deeply buried ferrous gas and water pipes, including their pipe joint connections, which provides superior depth performance over traditional metal cover locators. The Maggie™ Magnetic Locator is optimised for the water and gas industries and is a pistol-grip magnetic locator that combines sensitivity and precision with single-handed operation and a visual display. Spot™, the "Next Generation Stick Locator" is optimised for the construction industry and offers accuracy and ease of use in a sleek, light-weight package with improved ergonomics. The GA-92XTd is optimized for large utilities and is a portable and easy-to-use magnetic metal locator. 
Ground Penetrating Radar Systems (GPR)
The RD1100™ and RD1500™ give an alternative method of efficient, accurate location of underground utilities with their wide bandwidth radar signals. The RD1100 and RD1500 offer internal GPS, onboard WiFi, and a high-resolution touch screen.
The RD1500 provides all the great features of the RD1100 and additionally offers Depth Slices as well as Line Views. These allow the user to review slices of the subsurface at different depths, displaying cables, pipes and other utilities in unprecedented clarity. Enhanced damage prevention is offered through both products' ability to locate non-conductive utilities, such as plastic ducts, as well as
conductive cables and pipes.
For more information visit: www.radiodetection.com
The 14th annual Executive Hire Show is taking place next week - on the 5th and 6th of February 2020 at its established home at the Ricoh Arena in Coventry. Registration for visitors is open – and it's FREE! For a full exhibitor list please visit https://www.executivehireshow.co.uk/visiting/register
Go to Latest News