Simplifying the process of installing, adjusting and removing acrow props through utilising cordless impact drivers.
J-strut is launching a brand new collar and pinion system which enables temporary acrow supports to be installed and removed quickly, safely, and efficiently through utilising cordless impact drivers. The company's patented design allows builders and other professionals to work smarter - the new system claims to reduce manual labour and improve safety.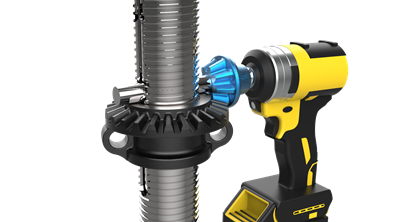 Any temporary steel support can be converted by simply replacing the threaded collar with the patent-pending J-strut gear collar. The collar can be wound up and down to adjust the support height using the J-strut pinion gear which locates over the existing locking pin and can be driven with a cordless impact driver.
Temporary supports such as acrow props can be required urgently at short notice. The J-strut system enables rapid deployment by greatly reducing the time taken to spin the collar to the correct height. An adjustment that would usually take minutes to complete manually can be achieved with J-strut in a matter of seconds.
When supports are needed in large quantities it can be a mammoth task. J-strut removes the need for manual adjustment of the collar, avoiding operator fatigue and reducing the chances of human error.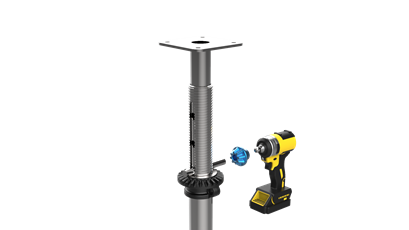 Often the amount of force applied by each support is overlooked since there is no easy way to measure the input force. J-strut helps ensure that each support is not overloaded thanks to the limit set by the input torque of the power tool.
The J-strut geared collar is a straight swap for an existing collar, enabling any temporary steel support to be converted.
In the case that the power tool is unavailable or out of battery, the J-strut collar can be manually adjusted using the incorporated original lugs.
Temporary supports are prone to being tampered with and can be a target for thieves. With the J-strut system, the ability to adjust and remove the support can be controlled through a dedicated locking pin - offering a tamper-proof option.
Visit J-strut at the EHS on Stand J34!
Put the 9th and 10th February in your diary and we'll see you at the Coventry Building Society Arena (formerly the Ricoh).  Registration is open and it's free - click here...  This is one show in the 2022 exhibition calendar you can't afford to miss...
Go to Latest News