Xtirpa counterweight system (pictured above)
Globestock's Commercial Director, Brian Cole, explains: "The Xtirpa confined space access and rescue equipment complements our existing product range perfectly. This exciting partnership enables Globestock to offer a complete range of solutions to UK and Ireland customers, without compromising on the superior quality we're well-known for."
"Xtirpa's counterweight davit and trench mount systems will be of particular interest to the hire industry. In addition to solving access and safety problems faced by engineers, the incredible durability of this gear means it stays on asset registers for longer, delivering longer in-service lifespans and a superior return on investment for hire fleets."
Globestock will also be exhibiting their trusted own-brand products, including the G.Tripod. This confined space access and rescue tripod features a three-pulley head and an innovative 'compact' size option that is proving to be popular.
The G.Tripod is available in two size variations: 'standard' and 'compact'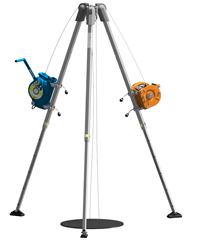 Brian goes on to say: "we're looking forward to welcoming customers new and old onto the stand. We would like visitors to get hands-on with the equipment and see for themselves just how good it really is. When seen closeup the quality speaks for itself."
Put the 9th and 10th February in your diary and we'll see you at the Coventry Building Society Arena (formerly the Ricoh).  Registration is now open and it's free - click here...
Go to Latest News