Genquip Groundhog recently launched a new all-stainless steel version of its GP360 Fusion Pulse welfare cabin - which is a green environmental version of the standard GP360
The GP360 Fusion is powered by an onboard 12V battery enabling, the led lights, heating, hot water and inverter sockets (to charge laptops, mobile phones and small printer) to be run without the need for the onboard generator.
The integral 6kVA generator provides backup power and is only required to charge the onboard battery and run the hot water, kettle, and microwave. The generator is fitted with an auto stop timer to save over running and unnecessary wastage.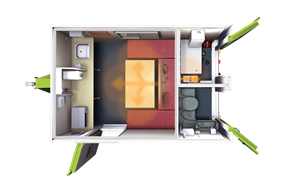 The 3.6m unit is designed for longevity and has a hot-dip galvanised chassis plus a non-porous plastic floor and has seating for up to six people.
12V LED PIR lighting automatically senses movement turning lights on automatically. Situated in the canteen, toilet and generator room.
Genquip's Peter Beach said, "The Fusion Mobile units' environmental features give owners and end-users savings by way of reduced fuel usage, 60% reduction in generator servicing, longer generator life, fewer breakdowns and massively reduced noise pollution."
For more details of the GP360 Fusion Pulse and other models in the Genquip Groundhog range ahead of the Executive Hire Show visit www.groundhog.co.uk
Genquip Groundhog will be at the show with a range of its welfare units - lookout too for the 'ladies' on stand H10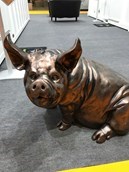 The Executive Hire Show 2020 is taking place at its established home at the Ricoh Arena Coventry on 5th and 6th February.  The show is now over 90% sold! Visit www.executivehire show.co.uk  for further details on who is exhibiting at the event.
Go to Latest News