The device – called the Particulator® - uses the same full-flow ceramic filter that is commonly used by OEMs to meet Stage V standards on larger machines. It can be quickly installed on the machine and just as quickly removed so that it is ideal for occasional use on specific projects. The company will be showing the Particulator® at the EHS on stand I11
A 30-minute automated cycle burns off the trapped particulate. The cleaned Particulator® will then be ready for the next period of work.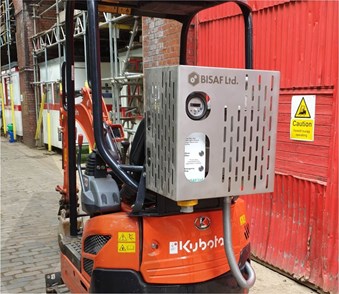 The Particulator has been tested on a machine by an independent automotive emissions test laboratory and was found to give greater than a 99.9% reduction in particulate as well as having a regeneration cycle that cleaned the filter effectively. It has also been extensively used in the field to demonstrate its effectiveness in improving air quality as well as its durability and ease of use.
You can watch the video here...https://youtu.be/6DKne3iMIgA 
Only two days to go (9th and 10th February) and we'll see you at the Coventry Building Society Arena (formerly the Ricoh).  Register NOW it's free - click here...
Go to Latest News